Duke Pediatric Eye Imaging Suite Enhances Offerings for Patients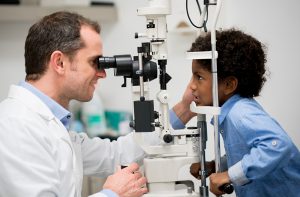 Diagnosing and treating ophthalmic disorders in pediatric patients can require multiple appointments with various specialists. The new Duke Pediatric Eye Imaging Suite, located directly above the Duke Pediatric Retina and Optic Nerve Center (DPROC) in the Duke Eye Center's Pediatric Clinic, offers patients access to a team of highly trained specialists and the newest diagnostic equipment—all in the same visit.
DPROC and the imaging suite were developed by 4 of Duke's highly specialized ophthalmologists: pediatric retinal specialists Cynthia Toth, MD, and Lejla Vajzovic, MD; pediatric ophthalmologist Sharon Freedman, MD; and pediatric neuro-ophthalmologist Mays A. El-Dairi, MD. Working in collaboration with the entire Pediatric Ophthalmology Division, the 4 clinicians aim to better diagnose and manage young children with eye disorders.
It is uncommon to have so many specialists specifically trained in the management of childhood eye conditions all in one eye center, Vajzovic notes. Because of the expertise of the group, which includes 2 pediatric retinal surgeons, DPROC is one of only a few eye centers that treats pediatric patients with complex retinal and optic nerve diseases.
It's even more uncommon for subspecialized ophthalmologists to work closely together to treat patients, she adds. But this is important for providing the best care for Duke's youngest patients.
"Each of us has a different skill set," Vajzovic explains. "We came together because we wanted to provide a more team-based approach to taking care of our unique patients, many of whom have very rare diseases that can be difficult to diagnose."
To that end, ophthalmologists at the clinic offer overlapping clinic days so that patients have the opportunity to see 2 specialists on the same day. This approach allows patients to receive 2 opinions in a single visit and helps the Duke team determine a diagnosis and treatment plan.
In addition to its highly skilled team of specialists, DPROC and the imaging suite offer the latest tools, including eye imaging equipment specifically designed for infants and children. The imaging suite's convenient location and cutting edge diagnostic tools enable DPROC's team to identify problems earlier and prevent eye problems later in patients' lives.
"This truly is subspecialized care," Vajzovic remarks. "And we're fortunate to be able to offer it."