Offering comprehensive care for patients and families, the Duke Pediatric and Congenital Heart Center is a national leader in clinical care, research, and patient advocacy. A highly trained, multidisciplinary team pursues rigorous clinical research and innovation in every dimension of pediatric cardiovascular medicine: surgery, critical care, neurodevelopment, and physical and occupational therapy.
"We are a national leader in managing outcomes with a clear focus on quality of life in patients with congenital heart disease across the lifespan," says Jennifer S. Li, MD, chief of the division of pediatric cardiology.
"Our approach involves a much broader mission than simply taking care of patients. We promote and practice advocacy for patients while undertaking generational cardiology research to understand the challenges these families face and to help them."
Duke's pediatric heart surgery program is the first and only one in North Carolina to develop a single-ventricle care and research program with dedicated family support. Duke surgeons converted 15% of children with single-ventricle diagnoses to two-ventricle circulation during 2019. Joseph W. Turek, MD, PhD, chief of pediatric cardiac surgery, performs the innovative all-region perfusion operation for Norwood palliation he pioneered for children with hypoplastic left-heart syndrome and other single-ventricle heart disease.
With three experienced, board-certified cardiac surgeons, the program accepts more patients with complex presentations, increasing the number of index surgical cases annually since 2018. During this period, the program's mortality rates have equalled those of the top programs in the nation, culminating in a low, 0.26% mortality for 2019.
"With our accomplished cardiac surgeons and a specialized surgical support team led by Veerajalandhar Allareddy, MBBS, section chief of the Pediatric Cardiac ICU, we can now provide world-class care for even the most high-risk patients with congenital conditions who were forced to travel out of state for treatment previously," says Turek.
Image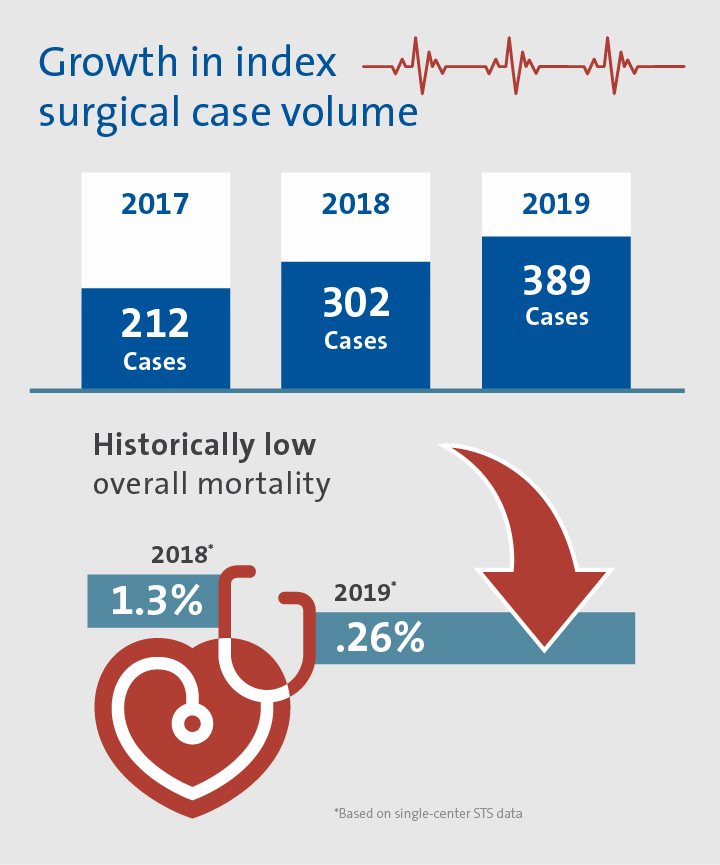 Serving 15,000 patients
During fiscal year 2019, the Pediatric and Congenital Heart Center served 15,000 patients in seven clinics across North Carolina. The highly specialized team works with every aspect of pediatric care. From abnormal fetal ultrasounds to adults with congestive heart failure, the team also cares for patients with cardiomyopathies, arrhythmias, and non-congenital conditions.
 
Duke offers enhanced access to providers through patient-directed scheduling, telemedicine, and nontraditional appointment hours. A singular focus of the program is the partnership with patients and families, Li says. "We have a heavily engaged patient support group and we focus on the effects on families who are dealing with these challenging conditions. We take care of the patient and the entire family, many of whom require long-term follow-up care."
This team-based focus on patients and families is evident in many patient successes despite daunting presentations. The experiences of Thelo Smoot and Heath Tuttle represent two of the most dramatic.
Distinctive, patient-focused programs—from maternal bonding during the 2-hour window after birth to the use of therapy dogs for pediatric cardiology patients—help create a patient- and family-friendly approach to care.
As part of this commitment, the Duke Pediatric and Congenital Heart Center launched the first chapter in North Carolina of Project ADAM (Automated Defibrillators in Adam's Memory), a national organization committed to preventing sudden cardiac arrest in children and teens through education and life-saving programs in North Carolina. Electrophysiologist and pediatric cardiologist Salim F. Idriss, MD, PhD, leads the initiative.
Image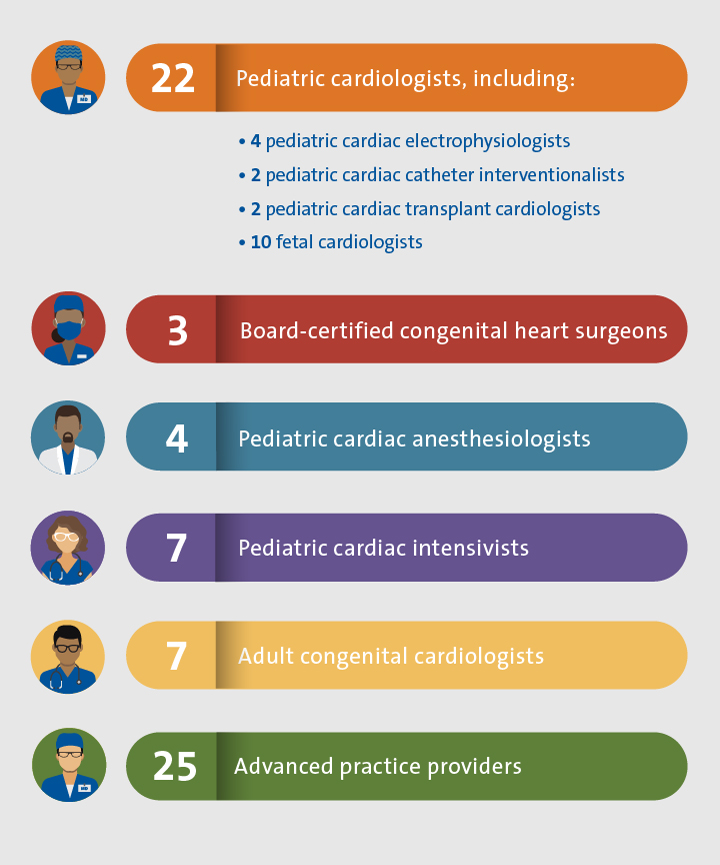 Clinical research is key
Clinical research leadership remains a central focus of the Duke Pediatric and Congenital Heart Center. "Our research ranges from basic science study of the causes for sudden cardiac death and cardiomyopathy to genetic disease analysis and large scale, multicenter clinical trials," says Li.
Li and pediatric cardiologist Kevin D. Hill, MD, MS, lead a team managing the NIH-sponsored Steroids to Reduce Systemic Inflammation After Infant Heart Surgery (STRESS) trial, involving 1,200 infants in an effort determine the pharmacokinetics and pharmacodynamics, safety, and efficacy of methylprednisolone in infants undergoing heart surgery with cardiopulmonary bypass.
The STRESS trial is one of several research-focused priorities, Li says, noting that Idriss directs an initiative partnering with the FDA, medical industry, and multiple public foundations to create and maintain a registry of cardiac screening data to help prevent sudden cardiac death among young people. Duke is also a leading investigative site for new catheterization devices, such as percutaneous valves, stents, septal occluders, and others.
Home to the first and only pediatric cardiology fellowship program in North Carolina, Li says the robust, competitive initiative offers advanced fellowships in interventional catherization, electrophysiology, and non-invasive imaging (cardiac MRI and CT) as well as molecular biology and translational investigation.
Image