Duke Neuromuscular Program Is a Leader in Duchenne Muscular Dystrophy
Published
January 31, 2017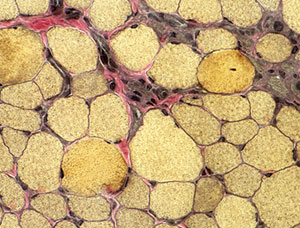 Duke Children's Comprehensive Neuromuscular Program is leading the charge against Duchenne muscular dystrophy (DMD), participating in groundbreaking research and providing coordinated, multidisciplinary care for infants, children, adolescents, and young adults with the disease, in addition to a wide variety of other neuromuscular disorders.
Codirected by pediatric neurologist Edward C. Smith, MD, and pediatric lung and sleep specialist Richard Kravitz, MD, the program has been recognized as a Certified Duchenne Care Center by the nonprofit organization Parent Project Muscular Dystrophy.
With state-of-the-art diagnostic evaluations and therapy, the program's goal is to help patients maintain muscle strength and preserve mobility for as long as possible. Program staff members provide ongoing support, education, and counseling, in addition to working with patients and their families to develop the skills they need to live with muscular dystrophy and improve their quality of life.
Because the needs of children with neuromuscular diseases vary and often require coordinated, multidisciplinary care, the staff comprise multiple pediatric specialists—including a neurologist, cardiologist, and pulmonologist—in addition to a nurse coordinator, occupational therapist, physical therapist, nutritionist, genetic counselor, and social worker.
"While not every patient will need to see that many specialists, we're all together and available in one space," says Smith.
Changing the Treatment Landscape
Duke is a member of the Cooperative International Neuromuscular Research Group (CINRG), a consortium of medical and scientific investigators from academic and research centers with a common goal of contributing to the research and treatment of neuromuscular diseases.
"For 30 years, deflazacort and prednisone have been the standard of care for DMD, helping to delay the loss of ambulation for approximately 2 to 3 years," says Smith. "Some of the research and trials currently being conducted are very promising in further delaying progression of the disease."
Investigators from the program are involved in a study on the safety and efficacy of vamorolone, a novel steroid compound that, Smith hopes, will be superior to prednisone. A collaboration between CINRG and ReveraGen BioPharma, the goal of the phase 2a clinical trial for safety and tolerability in boys with DMD aged 4 to 7 years is to protect muscle damage and preserve strength, as well as to prevent and minimize muscle fibrosis and scarring.
"The preclinical data are exciting. No side effects—like stunted growth, diabetes, weight gain, or immunosuppression—are expected," says Smith. "The drug could potentially have implications with other neuromuscular disorders where inflammation and fibrosis occur."
Screening Leads to Proactive Treatment
Although the age at which patients begin to present with symptoms of DMD is variable, the average is approximately 4 or 5 years, Smith explains, providing ample time for irreversible fibrosis to occur.
As a result, he believes neuromuscular disorders should be included in newborn screening: "It would enable us to counsel parents, and, as with most therapies, treatment is more effective the earlier you start."