Duke Liver Transplant Program Has Nation's Best Outcomes
Published
February 14, 2017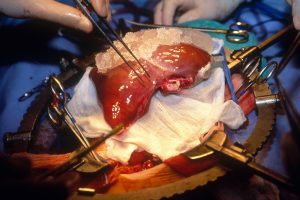 According to newly released data from the Scientific Registry of Transplant Recipients, Duke's transplant center has the nation's best outcomes for adult liver transplants from deceased donors. The center performed 98 transplants in 2016—the most in North Carolina—and is among the nation's most efficient centers, moving patients from the waiting list to transplantation more than 2.5 times faster than the national average. Duke's 1- and 3-year survival rates are also among the best in the United States.
Debra Sudan, MD, chief of the Division of Abdominal Transplant Surgery at Duke, credits much of the program's success to the transplant team's expertise and its "willingness to go above and beyond." She cites an example in which transplant coordinator Michelle Hendricks, RN, coordinated a transplant even though she wasn't on call.
After learning that an outside transplant center would have a right lobe available after splitting a liver for a pediatric patient, Hendricks was able to facilitate the identification of an appropriate recipient and coordinate with him to have him fly in from Connecticut immediately to receive the transplant.
"She spoke with the patient by phone several times to answer questions about risks and benefits and explain what was different about this type of transplant compared with receiving a whole organ," Sudan says. "As is common in transplantation, all of this occurred well after 5 pm, so she could have easily turned the case over to the coordinator on call. But this would have taken more time, since he had never met the patient, and, with any delays, the transplantation likely wouldn't have happened."
While the patient was traveling to Duke, Sudan went to the center with the donor liver and participated in the split to ensure the Duke transplant team would have a viable portion of the liver to transplant. Just hours later, the patient underwent successful partial liver transplantation with no complications.
Sudan notes that the case is a good illustration of the strengths of the Duke Liver Transplant Program. In many centers, when a pediatric patient receives a partial transplant, no patient can be identified to receive the right lobe, but at Duke, experienced, committed personnel ensure that no donor organs (or partial grafts) are wasted and that patients move efficiently from waiting list to transplantation. The program is 1 of only a handful in the country that performs split-liver transplantation—a challenging surgery that requires significant experience and expertise. 
The program's surgeons also have experience performing other complex procedures, including domino, combined, and living donor liver transplantations.
Looking forward, the transplant program's leadership seeks to continue to grow and improve the program to offer the best possible care to every patient in need of a liver transplant. Three new hepatologists and 1 surgeon were hired in 2016 to increase access for patients, and the group continues to be heavily involved in basic research and clinical trials examining methods of increasing the pool of viable donor organs and minimizing immunosuppressant dosages and adverse effects.