Duke Expands Pulmonary Thromboendarterectomy Program
Published
August 30, 2016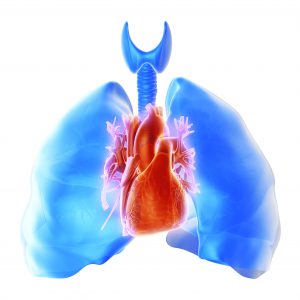 Select patients presenting with pulmonary hypertension can be definitively diagnosed and assessed as candidates for pulmonary thromboendarterectomy (PTE), an emerging Duke Health specialty program.
Victor J. Test, MD, a pulmonologist who promotes a surgical approach to the treatment of chronic thromboembolic pulmonary hypertension, encourages prompt referral to improve the diagnosis rates of this progressive—and often fatal—condition. Test was recruited to expand the pulmonology specialty at Duke.
Test regularly speaks to referring physicians to create greater awareness of the available diagnostic and treatment options. The ventilation–perfusion (VQ) scan is the most important initial step in diagnosing chronic thromboembolic pulmonary hypertension.
Pulmonary hypertension may need to be medically managed because of patient comorbidities, Test says. One drug that is somewhat effective is riociguat, a novel formulation that acts as a soluble guanylate cyclase stimulator.
But pulmonologists recommend PTE as the most effective therapy following a comprehensive evaluation by radiologists and cardiovascular surgeons to qualify a patient for surgery.
Since Test arrived in late 2015, the team at Duke has performed 27 PTEs and ranks among the top 4 US surgical sites in number of procedures.
High-volume PTE centers report lower mortality rates, and their specialists can restore patients to healthy pulmonary function in approximately 6 weeks compared with 6 months at centers where the procedure is not as routinely performed.
"It's essential to get a VQ scan at a medical center with a proven track record in this procedure to give us a definitive assessment of chronic clotting and scar tissue," Test says. 
PTE requires cardiopulmonary bypass and deep hypothermic circulatory arrest. The emboli that cause the hypertension are converted to scar tissue, which obstructs the pulmonary arteries and must be completely removed by a cardiothoracic surgeon.
"It's one of our most complex procedures," Test says, "but the positive results can be dramatic." The procedure is performed by John C. Haney, MD, a cardiothoracic surgeon, in collaboration with Test and a team of radiologists.
"We see consistently good outcomes, and patients recognize the effects quickly," reports Test. "After the removal of scar tissue, the blood flow improvement is equivalent to taking your thumb off the mouth of a water hose."
However, determining if a patient is a candidate for PTE requires assessments from radiologists and surgeons, Test explains.
"We've been very successful so far, and we are growing as regional practices become aware of the diagnostic tool and the options for complete recovery if the patient is a good candidate for surgery," he says.
"Referring physicians must realize that pulmonary hypertension is not just a diagnosis of a condition," Test adds. "It is a syndrome caused by many factors."