Duke Expands Pediatric Kidney Transplantation Initiative
Published
September 13, 2016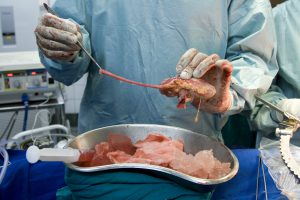 Duke Health has launched a large-scale expansion of its pediatric kidney health and transplantation initiative highlighted by the arrival of Eileen Tsai Chambers, MD, who was previously the medical director of the Pediatric Kidney Transplant Program at the University of California in Los Angeles (UCLA).
Building on Duke's national reputation as a leader in transplantation and her extensive transplant expertise, Chambers plans to increase the number of pediatric kidney transplants, expand regional care for chronic kidney disease and end-stage renal disease among children, and initiate new research through translational studies and clinical trials.
"We want to become the leader in pediatric kidney health and transplantation in North Carolina," says Chambers, who has already begun the groundwork by assembling the transplantation team.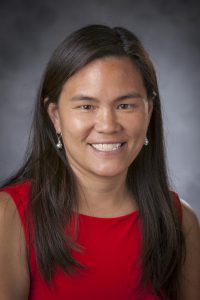 FIGURE. Eileen Tsai Chambers, MD, is the medical director leading the new Pediatric Kidney Transplant Program
As the medical director of Duke's Pediatric Kidney Transplant Program (Figure), she joins an established surgical specialty, led by Allan D. Kirk, MD, PhD, a transplant surgeon and chair of Duke's Department of Surgery, who specializes in transplants for children and adolescents.
Chambers is recognized for her research on organ rejection, biomarkers to monitor the immune system, medication nonadherence, and the effects of immunosuppressive medications. She says that Duke's legacy of successful transplantation has created an environment conducive to rapid growth for the pediatric program.
Since the 1950s, Duke has been a leader in organ transplantation. Immunologist D. Bernard Amos, MD, helped develop the early HLA research that became the cornerstone of the now universal tissue-typing system. The first kidney transplant at Duke was performed in 1965; 4 years later, Amos and his colleagues created the first organ-sharing program in the United States.
Chambers acknowledges the institutional tradition of innovation. "That's one of the reasons Duke was attractive," she says. "By increasing pediatric kidney transplantation and providing cutting-edge diagnostic markers and transplant therapies to our patients, Duke will build on its tradition of excellence."
As medical director, Chambers plans to bring innovations from her experience at UCLA. She will employ new infusion strategies to deliver medications more safely and efficiently to young patients. She also hopes to implement steroid-free treatment regimens and establish best practices to monitor the immune system and provide individualized, patient-centered care.
Chambers has set a goal of 15 to 20 pediatric kidney transplants each year among patients whose needs are unmet. Last year, Duke performed 6 pediatric kidney transplants—more than any medical center in North Carolina—including a complex combined heart and kidney procedure.
Because of concerns surrounding nonadherence among young patients after transplant, Chambers says her experienced team will create a seamless educational and behavioral transition for medication and self-care management as patients mature from children into young adults.
"I'm excited to join a team of leading pediatric nephrologists who are experts in different areas of nephrology and who share the excitement of building a broader regional program," she says. "The most promising part of this effort is the quality of the team already in place."