Duke Enrolls First Low-Risk Patients for TAVR Trials
Published
September 27, 2016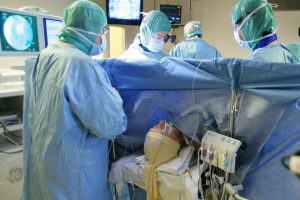 Heart specialists at Duke Health enrolled the first low-risk patients for transcatheter aortic valve replacement (TAVR) trials in June 2016, signaling another expansion of the nonsurgical aortic stenosis procedure.
The enrollments continue Duke's legacy as one of the nation's leading centers for TAVR trials and treatment.
"The message to referring physicians is, if you have a patient with severe aortic stenosis who is interested in less-invasive treatment, this low-risk, randomized protocol offers a great opportunity," says J. Kevin Harrison, MD, a structural heart specialist and medical director of the Structural Heart Disease Program at Duke.
Use of TAVR at Duke began in 2011 as a trial for high-risk patients ineligible for surgical aortic valve replacement. The US Food and Drug Administration (FDA) approved TAVR in November 2011 for use in patients with inoperable disease and in October 2012 for patients at high surgical risk. A decision by the FDA on the use of TAVR for patients at intermediate risk is expected in 2016.
"The low-risk option we are testing in the new trial certainly expands the reach of the procedure," says G. Chad Hughes, MD, a cardiothoracic surgeon and surgical director of the Structural Heart Disease Program. "It will not be the answer for everyone, but it provides another option for some low-risk patients."
The determination of "low risk" is made after a team of heart specialists—cardiologists, cardiothoracic surgeons, and radiologists—review cases weekly. "At Duke, a multidisciplinary group of specialists works through each case, one by one, to make the decision about risk," Harrison says.
Enrollment may be slower in the low-risk trials, Hughes predicts, because the trial excludes patients with bicuspid valves, an anomaly that can contribute to valvular calcification and aortic stenosis in patients younger than 65 years.
Long-term durability of TAVR must be compared with existing thoracic surgical valve replacements. Valve durability will be tested in patients at low risk for whom the rate of survival after aortic valve replacement is anticipated to be longer.
"The biggest question will be how low risk can we go," Hughes says. "At this point, valve durability for TAVR is not as well defined as it is for surgically implanted valves. This raises the question of when TAVR should be used in younger, low-risk patients."
Hughes predicts TAVR technologies will continue to improve and rates of survival will continue to increase as a result of the minimally invasive procedure.
"Clearly, we are extending the lives of older patients, particularly those who are high risk and would not have previously been offered a surgical option," he says.
Participating in the low-risk TAVR trial sustains Duke's commitment to offer treatment to the vast majority of patients eligible for TAVR. "We have more experience with more devices at more risk levels," says Harrison. "We provide customized care to identify and treat the range of anatomical valve challenges."