Drug Allergy Evaluation Clinic Expands Treatment Options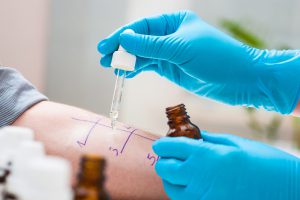 A drug allergy evaluation by an allergist/ immunologist can help physicians assess historically reported reactions to medications that may currently limit therapeutic options. The evaluation will determine which drugs can be tested, orally challenged, or desensitized. In the case of antibiotics, evaluation is critical to prevent overuse of broad-spectrum agents.
Cristine Radojicic, MD, who helped launch the Penicillin Allergy Evaluation Clinic at Duke's Asthma, Allergy and Airway Center, says the team offers a variety of techniques to assess patients' drug allergies, which can be difficult to diagnose.
"We are providing services that have not been historically offered by local allergy clinics," says Dr. Radojicic. "Typically, patients come to an allergy clinic for treatment of asthma or allergic rhinitis."
The allergy team assesses the full range of drug reactions that could occur during outpatient treatment or a medical or dental procedure. The process requires a comprehensive medical history and treatment plan that may include skin testing, oral ingestion challenge under observation, or full desensitization.
The Duke team created a dedicated penicillin allergy clinic because it is the only drug for which there is a validated skin test. The prevalence of reported penicillin allergy is 10% in the general population. However, more than 90% of these patients are found not to be allergic to penicillin after skin testing.
"Penicillin allergies tend to become a label that sticks with patients throughout their lives whether they are truly allergic or not," Radojicic says.
With 5 allergists at the center, the team offers comprehensive allergy and immunology evaluation for pediatric and adult patients for the following conditions:
Allergic rhinitis with formal skin-prick testing to determine allergic triggers
Asthma evaluation, including severe steroid-dependent asthma with consideration for biologic therapies
Drug allergy evaluation, which may include skin testing, oral graded-dose challenge under observation, or drug desensitization
Urticaria/angioedema
Primary immunodeficiency
Food allergy
Stinging insect allergy
Allergists at the clinic include Patricia L. Lugar, MD, researcher and specialist in primary immune deficiency, as well as allergy and immunology specialists Anne R. Collier, MD, Moira E. Breslin, MD, MSc, and Peter B. Bressler, MD.