Could Device Innovation Increase Survival in Patients With HF?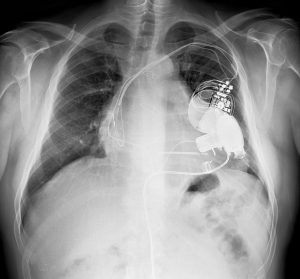 Assessing the therapeutic potential of mechanical, left ventricular assist devices (LVADs), 2 articles in the February 2, 2017, issue of the New England Journal of Medicine summarized trial results of new magnetically levitated pumps designed to improve durability and reduce thrombosis.
The publication of the 2 articles, clinicians say, underscores the increasing importance of circulatory support devices in the treatment of patients with heart failure (HF), either as a bridge to transplant or as long-term therapy.
"The articles reflect the current state of LVAD technology and represent a remarkable tour de force that highlights the thoughtful efforts of clinicians who work to eliminate complications associated with these devices," says Joseph G. Rogers, MD, lead author of the paper that presented the results of the ENDURANCE trial, HF and transplant specialist at Duke, and faculty member of the Duke Clinical Research Institute.
In ENDURANCE, 446 participants with advanced HF who were ineligible for transplantation were randomly assigned to receive a smaller centrifugal-flow device implanted inside the pericardium or a commercially available axial flow pump inserted beneath the ribs.
The newer LVAD was found to be noninferior to the existing option as assessed in terms of survival, free from disabling stroke, or need to replace the device.
Carmelo A. Milano, MD, a Duke heart surgeon, also contributed to the article.
In the published results of the MOMENTUM 3 trial, a magnetically levitated centrifugal-flow pump was assessed in 294 participants with advanced HF. The new pump was associated with better outcomes at 6 months compared with an axial-flow pump.
A lower reoperation rate for pump malfunction was the key reason for the better outcomes, the authors concluded. Milano and Chetan B. Patel, MD, a Duke specialist in HF and transplantation, also contributed to the article.
During 2015, Duke surgeons implanted more LVADs than any other center in the world, Rogers says. "The growing number of patients with advanced HF no longer responding to guideline-directed medical therapies and without options for transplantation will require some sort of mechanical circulatory support. We want to test and understand the technology in this space to bring it to a larger patient population who may not be eligible for transplantation," Rogers says.
Patients with transplants survive approximately 10 to 13 years, whereas the survival rate of LVAD averages 5 years. However, LVAD technology continues to improve, he notes, and some patients survive beyond 10 years.SaveSave