Complicated Septorhinoplasty Requires Expert Approach
Published
January 15, 2017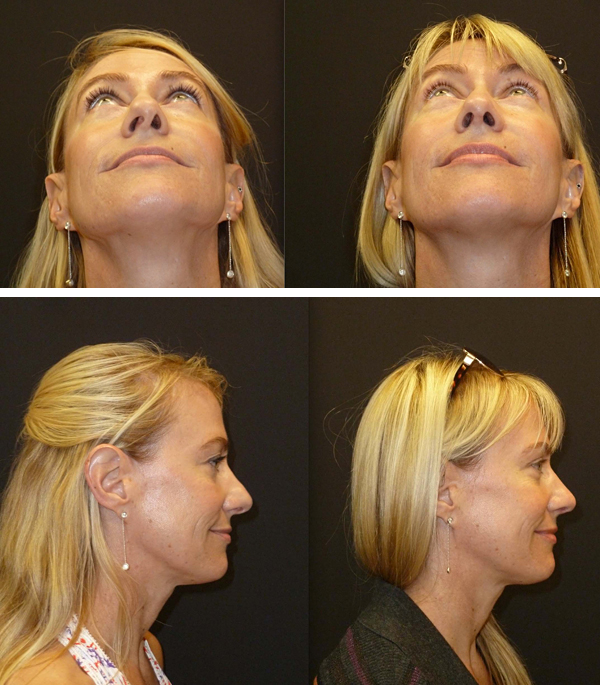 FIGURES 1 and 2: Preoperative (left) and 1-month postoperative (right) photographs of the patient.
A 47-year-old woman arrived at Duke complaining of difficulty breathing during sleep and exercise and symptoms of a suspected sinus infection that would not respond to over-the-counter medications.
A computed tomography (CT) scan showed no evidence of sinusitis; instead, the results revealed a severely deviated septum and significant obstruction in the areas that provided support to the patient's nasal tip. Septorhinoplasty was required to clear the obstruction.
During her surgical consultation with otolaryngologist and facial plastic surgeon Charles Woodard, MD, the patient asked whether the appearance of her nose could also be improved during the surgery—a step that would add complexity to a common procedure.
When Woodard opened the patient's nose during surgery, he discovered a severe deformity to the cartilage along the nasal tip that would further preclude the possibility of performing a straightforward rhinoplasty.
Question: How did Woodard modify the procedure to address the deformity?

Answer: Because of the severity of the deformity of the patient's septal nasal cartilage, Woodard removed the entire septum, reconstructed it, and then replaced it. He also removed and rebuilt the deformed tip cartilage.
Rhinoplasty is different from other plastic surgery procedures because of the complex function and cosmetic significance of the nose, as well as the technical challenges for the surgeon. Adding a procedure to improve aesthetics further complicates surgery of this type, explains Woodard, who is board-certified in both otolaryngology and facial plastic surgery.
"Because a cosmetic change in the structure of the nose can have undesired effects on breathing, and specific surgical techniques designed to improve breathing can affect a patient's appearance, it's challenging to combine functional and aesthetic surgery," says Woodard. "It's even more challenging to have to completely remove the septum and put it back in the nose."
The patient also wanted to reduce the fatigued look around her eyes, so Woodard performed an upper lid blepharoplasty during surgery.
After surgery, both Woodard and the patient were very pleased with the results in both function and aesthetics, a delicate balance that is sometimes difficult to achieve, he notes: "We need to strike a good balance between those 2 elements, and it takes a surgeon with a specific type of training to understand the internal and external anatomy as well as the function of the nose to achieve the best results."
Because it can take up to 1 year to see final results after rhinoplasty, patients are often uncertain whether they want to go through such a lengthy healing phase to get the results they want. However, in this patient's case, photographs taken just 1 month after surgery showed significant improvement to her facial symmetry. "She was very pleased with her refreshed, youthful appearance as well as the improvement in her breathing," says Woodard. "This case is a great example of how patients can look and feel very good, very soon after surgery with the appropriate surgical interventions."