Collaborative Spine Care May Improve Outcomes
Published
August 29, 2017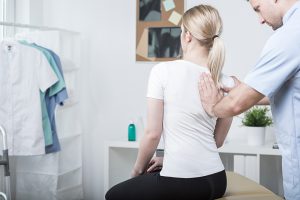 By adding a chiropractor to its team of health care professionals, a Duke orthopaedics practice continues to lead the regional service in comprehensive spine care. The practice also includes a spine surgeon, sports medicine orthopaedic surgeon, physician assistant, and physiatrist.
"The more disciplines you have interfacing early on in the treatment process, the better you can select what treatment should work best for each individual based on their symptoms," says Scot Reeg, MD, a Duke spine surgeon. He also recommends beginning with conservative treatments.
Eugene A. Lewis, DC, MPH, a chiropractor who joined the team in March 2017, agrees: "As a team, we try all applicable treatment options before recommending surgery. My addition to the team allows us to offer additional treatment options."
There is a growing trend toward alternative treatments such as chiropractic care, Reeg notes. "Patients are more educated about their options than they used to be," he says. "By adding a chiropractor, Duke recognizes that a significant part of the population values chiropractors as providers of spine-related therapy."
In addition to stabilizing symptoms, chiropractors can help patients who may not be appropriate surgery candidates or for whom surgery poses substantial risk, Lewis says. Or, perhaps a patient doesn't want surgery. For patients who have undergone surgery, the orthopaedic team also provides postsurgical rehabilitation.
In his role, Lewis says he mainly treats mechanical spine issues, nerve irritation arising from spine conditions, and neck-generated headaches. "I do a lot of manual therapy," he says. "My goal is to improve mobility and range of motion, primarily in the spine, and in other joints if needed."
Lewis also offers other therapies, such as ultrasonography and electrical therapy. He provides education about ergonomics, home care, and improving flexibility, core strength, and balance.
Lewis expects his addition to the team to improve patient outcomes. "In the literature, chiropractors have good outcomes with musculoskeletal spine care, especially with acute and chronic care of the lower back," he says. "When examining patient satisfaction with chiropractic care, it is extremely high."
Reeg believes the team's multidisciplinary approach appeals to patients because they can move through the care process more efficiently and smoothly by having a team of health care professionals at the same clinic. He thinks the trend of having a chiropractor at an orthopaedic practice will grow in popularity because patients, insurers, and providers all want more cost-effective treatments.