Collaboration Is Key to Manage Central Airway Obstruction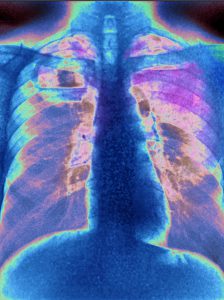 A collaboration between Duke rheumatologists and pulmonologists to manage non-malignant central airway obstruction (CAO) affords significant patient benefits, particularly in cases of relapsing polychondritis or granulomatosis with polyangiitis (GPA, formerly Wegener granulomatosis). In these conditions, subglottic stenosis presents challenging treatment considerations.
Inflammation from vasculitis associated with GPA can be fatal in severe presentations affecting the lungs or kidneys. Many airway obstructions caused by inflammatory blood vessel and connective tissue disorders associated with GPA can be managed successfully using Duke's multidisciplinary approach to treating CAO.
Patients with symptoms such as wheezing, exertional dyspnea (airway diameter < 8 mm), dyspnea at rest (airway diameter < 5 mm), stridor, or respiratory distress should be referred for a diagnostic assessment. Imaging is generally required for confirmation. Common modalities include chest radiograph, computed tomography, airway reconstruction, and virtual bronchoscopy.
More than 75% of patients with GPA require interventional bronchoscopy. Treatment may involve airway dilation, airway stenting, or injection of steroids or mitomycin C into inflammatory lesions. Endoscopic airway techniques include:
Mechanical debridement of tissue (forceps, rigid bronchoscopy, microdebrider)
Bronchoplasty (balloon dilation)
Heat therapy using laser, electrocautery, or argon plasma coagulation
As a result of the respiratory distress that presents in many patients with inflammatory disease, Duke rheumatologists work closely with pulmonologists to relieve symptoms, says Nancy B. Allen, MD, a Duke rheumatologist. "Relapsing polychondritis may overlap with vasculitis or lupus," Allen says. "Any of the systemic connective tissue diseases—lupus, rheumatoid arthritis, myositis, scleroderma, relapsing polychondritis, or Sjögren syndrome—may present with a lung component."
Many patients with inflammatory lung conditions experience stenosis that may require multiple procedures on a regular basis, Allen says. Dilations performed by interventional pulmonologists can relieve symptoms for several months, often up to a year. "Dilation has been a helpful procedure for my patients with CAO," Allen says. "In cases that cannot be managed with regular, repeated dilations, sometimes stenting is required."
Allen often consults Duke interventional pulmonologist Momen W. Wahidi, MD, MBA, who regularly manages patients referred by Allen and other rheumatologists. "The dilation procedure is effective and safe, but experience is particularly important in vasculitis and connective tissue disease cases because of the risk for airway rupture," Wahidi says.