Clinic Specializes in Treating Pregnant Women With Lupus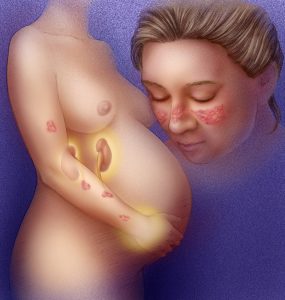 A rheumatologist specializing in the treatment of lupus during pregnancy urges other health care professionals to engage women at the time of diagnosis to discuss future pregnancy.
For the past 8 years, Megan E.B. Clowse, MD, a rheumatologist in Duke's Division of Rheumatology and Immunology, has directed a growing weekly clinic for pregnant women referred to Duke. Lupus is her primary focus, but Clowse also sees patients with related rheumatologic diseases.
"At the time of a lupus diagnosis, many women are afraid they will never be able to have a baby, but this fear is often unfounded," says Clowse. "Women need to learn about the risks of pregnancy but also how they can plan to have the safest pregnancy possible."

Fewer than 50% of patients with lupus experience complications. Risk is reduced with counseling to plan for pregnancy when lupus is inactive and while taking safe medications. However, pregnant women with active lupus may experience complications such as preterm birth or preeclampsia.
"Pregnancy can be a high-risk time for a woman with lupus because we cannot use our most effective rheumatologic drugs," Clowse says.
During pregnancy, potential adverse events associated with the use of common immunosuppressive drugs require patient communication and planning. "There are many advantages to getting the patient and physician engaged—preferably at the time of initial diagnosis and well before conception," Clowse adds.
After decades of their use, the most common drugs prescribed to reduce lupus activity in pregnancy, hydroxychloroquine and azathioprine, are considered to be safe during pregnancy. But Clowse has initiated research to achieve more precise dosing.

Her Duke clinic tests for antiphospholipid antibodies to assess risk for blood clots and placental-related complications. Women with Ro/SSA or La/SSB antibodies, who may have lupus or Sjögren syndrome but are asymptomatic, receive special attention. These antibodies can cause neonatal lupus, most often resulting in rash during the first months of life. 

"Our main concern, however, is congenital heart block, a permanent condition that results in death about 10% of the time," Clowse says. She prescribes a combination of medication and screening to try to prevent this rare but devastating complication. 

Since beginning the clinic, Clowse has built a registry of more than 450 cases. She engages global medical centers to contribute data, enabling meta-analyses and identifying optimal treatments.
"An individual center rarely sees enough pregnancies to develop a registry that fully covers the many variants of lupus during pregnancy," Clowse says. She works with Johns Hopkins and the University of Toronto as well as centers in Egypt, Israel, Germany, and Italy.
Clowse launched the Duke Autoimmunity and Pregnancy Patient Advisory and Collaborators group to encourage feedback from patients and clinical advocates as well as to extend her research.
"During pregnancy, the physician and mother are focused on the health of the child," Clowse says. "With inflammatory diseases, we must also be focused on keeping the mother healthy."