Breakthroughs in the Treatment of Pediatric Epilepsy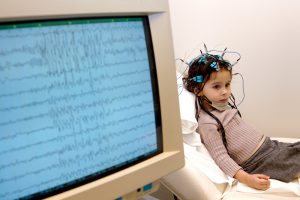 An improved understanding of the role of genetics and the pathophysiology of epilepsy, along with recent advances in genetic immunological testing, are enabling Duke pediatric neurologists to investigate targeted and precision individualized therapies for their patients. A precision therapy approach is being combined with new uses of existing medications, and, in addition to novel technologies in imaging and surgical techniques, the approach is bringing new hope for patients in controlling seizures and managing the disease.
"Our precision therapy approach means that once the genetic causes are revealed, we often can address the root cause of the disease in an individual and explore the use of targeted therapeutics based on the patient's physiology," says Mohamad Mikati, MD, the Wilburt C. Davison Professor of Pediatrics, a professor of Neurobiology, and the chief of the Division of Pediatric Neurology at Duke.
Understanding the genetic etiology of epilepsy is also leading to more targeted drug trials and the design of more appropriate animal models that help to better define and study the various epilepsy syndromes in search of more opportunities for the precision therapy approach.
Through intensive research, testing, and collaboration with geneticists around the world, Duke is beginning to repurpose medications being used for other disorders to treat pediatric epilepsy once the underlying genetic cause is known. "We're finding that some drugs in certain classes, such as those used for heart or lung disorders, can be repurposed for the treatment of neurologic diseases," says Mikati.
Although it has been possible to apply this approach in only a few cases to date, he notes that, for those patients, it has made a big difference in their prognosis and treatment, and he believes the approach holds a great deal of promise for the future.
In addition, targeted immune therapies for epilepsies caused by autoimmune mechanisms, in which the body's immune system is disturbed and attacks the brain to cause epilepsy, are now resulting in major improvements in the lives of many patients who, in the past, would continue to have intractable epilepsy.
When medications fail to stop epileptic seizures, a patient's best hope for gaining control of their seizures is often surgery. As is the case for medical therapy, Duke is at the forefront of using novel techniques that are revolutionizing treatment and surgery for pediatric epilepsy:
Robot-assisted stereoelectroencephalography is a presurgical brain-mapping technique that uses a robotic arm to make small holes in the scalp and guide the placement of electrodes deep inside the brain to help surgeons rapidly identify the exact area responsible for seizures. As an alternative to craniotomy, the procedure takes less time, reduces recovery time for the patient, and improves the accuracy and safety of surgical resections or ablation of epileptic foci.
Laser ablation of focal brain lesions is a minimally invasive technique in which neurosurgeons use magnetic resonance imaging to guide the insertion of a thin laser through small incisions to ablate lesions. This can replace surgical resection in many patients, resulting in increased safety and much faster recovery.
Intraoperative magnetic resonance imaging gives surgeons a real-time, detailed view of the area that is being treated during ablation or during resective surgery, allowing them to confirm complete removal of the area and perform the resection with a reduced risk of intraoperative damage—a significant factor in retaining neurologic functioning postoperatively.
"These technologies are as advanced as they come, and we have them all at Duke now," says Mikati.
Duke's integrated, multidisciplinary infrastructure supports the full spectrum of exploratory treatments for epilepsy, including ongoing research into identifying genetic mutations, collaborative clinical and translational research, and high-throughput screening of new and promising medications.