Brachytherapy Improves Survival Rates in Cervical Cancer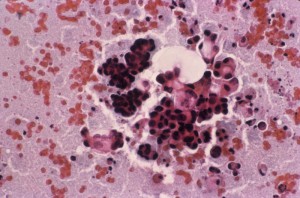 Compared with traditional treatment alone, gynecologic brachytherapy has been shown to increase survival time in patients with cervical cancer. The technique, which generally involves intracavity or interstitial high-dose radiation for small periods of time, is also used in other gynecologic cancers.
A population-based analysis published in the September 2013 issue of the Red Journal found that use of brachytherapy was associated with rates of improved cause-specific survival as well as overall survival in patients with cervical cancer. In a matched cohort, brachytherapy was associated with higher, 4-year cause-specific survival (64.3% vs 51.5%; P < .001) and overall survival rates (58.2% vs 46.2%; P < .001) compared with external-beam radiotherapy (EBRT) alone. The study examined results for 7,359 study patients with stages IB2 to IVA cervical cancer.
The researchers also found that the reported use of brachytherapy had fallen, from 83% of cases in 1988 to 58% of cases in 2009, and hit a low in 2003 of 43%. Because use of brachytherapy independently led to higher survival rates, the authors concluded that therapy "should be implemented in all feasible cases."
The standard for treating cervical cancer is EBRT, and gynecologic brachytherapy is used in a number of ways to primarily treat or to augment treatment. The American Brachytherapy Society has issued several sets of formal guidelines, 3 of which apply to locally advanced carcinoma of the cervix. The society has also published guidelines for adjuvant use of vaginal cuff brachytherapy after hysterectomy and use of interstitial brachytherapy for the treatment of vaginal cancer.
"There are fewer side effects with brachytherapy compared with the side effects of EBRT, so studying the optimal usage for brachytherapy is important for best practices," says Junzo Chino, MD, a gynecologic brachytherapy specialist at Duke.
Chino stresses that brachytherapy and EBRT provide a large set of options against various cancers, depending on the region and stage of the cancer. For example, if the location of the intrauterine channel is insufficient to cover the area of disease to be treated, physicians can also place interstitial catheters to direct the dose. "We can create a customized implant for each patient in conformal fashion," Chino says.
Careful use of imaging in clinical trials is being evaluated at Duke, including ultrasonography, magnetic resonance imaging, and computed tomography to spare normal, sensitive tissue, such as bladder and rectum, in close proximity to radioactive sources.
Another recent trial examined the rate of vaginal toxicity related to radiation to learn how to improve treatments to ameliorate difficulty with intercourse. Other brachytherapy trials are actively recruiting participants.