Bilateral Joint Replacement to Treat Arthritis
Published
February 16, 2016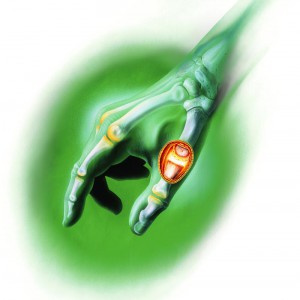 A man presented with a basilar (carpal-metacarpal) joint condition in both thumbs. Erika Taylor-Webb, MD, an upper extremity surgeon at Duke Raleigh Hospital, first explored nonsurgical options, including thumb bracing and cortisone injections, but the patient requested replacement surgery to reconstruct the joints.
Question: What surgical techniques did Taylor-Webb use to reconstruct this patient's joints and treat his arthritis?
Answer: Taylor-Webb agreed to reconstruct each of his thumbs to relieve his arthritic pain, using native tissue rather than implanting a device. She then removed the degenerated trapezium bone from each hand, which contained bone spurs and a significant lack of cartilage, and then she looked for the best repair path.
She used the patient's own wrist flexor tendons to weave through the metacarpals to reconstruct the function of the worn ligaments. This procedure formed a supportive position for each thumb. The tail end of the tendons was then curled into an "anchovy," or folded, accordion-like configuration, to fill the missing bone space.
Following this procedure, the patient completed rehabilitation therapy. Now, when lifting, gripping, or twisting with the thumb and fingers, the patient's bones rest on a "pillow"; previously, the arthritic bones were grinding together, Taylor-Webb says.
Basilar-joint conditions are more common in women than men; approximately one-fourth of women older than 40 years have this condition, which is thought to be partly hormone-related. Middle-aged women may be more prone to a basilar-joint condition because naturally occurring low levels of estrogen can affect the stability of ligaments, according to anatomic studies. In men, a basilar-joint condition is usually due to earlier trauma or an injury sustained during sports.
Although the degeneration of weight-bearing joints (eg, hips, knees) can be avoided, Taylor-Webb explains that "there is nothing a patient can do to prevent the condition from settling in." And, she says, "not everyone with this condition has significant symptoms; however, when they do, there are options to treat it."
She is currently accepting patients with complaints of hand, wrist, or elbow pain or trauma. "Traumatic cases that need to be urgently evaluated can be scheduled rather quickly," she says. In addition to standard open procedures, Taylor-Webb performs minimally invasive procedures, including arthroscopy, for the wrist and elbow. She also specializes in arthritis care, overuse injuries, nerve-compression syndromes, traumatic ligament injuries or fractures, and sports-related injuries of the hand, wrist, and elbow. She performs elbow replacements when indicated.
Taylor-Webb notes that she also specializes in nonoperative treatments for tennis elbow, De Quervain tendonitis, and other types of overuse conditions.
Duke's innovative and collaborative approaches to care stem from clinicians who pioneered procedures in wide use today. To ensure the best patient outcomes, Duke clinicians work together to care for patients and partner with therapists and other ancillary resources when needed.