Benefits of Patient-Centered Medical Homes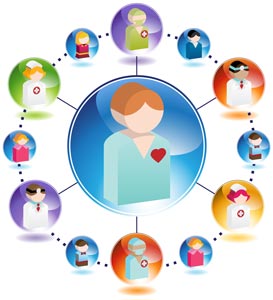 The patient-centered medical home (PCMH) concept has been steadily gaining attention for years. Focused on enhancing patient outcomes by transforming the delivery of care, this unique model is touted as a promising solution to improving health care in the United States.
Duke Health was an early adopter of the PCMH model nearly 25 years ago, led by efforts from Lloyd Michener, MD, professor and chair of the Department of Community and Family Medicine.
Michener first began exploring the concept as part of a statewide effort to organize care for Medicaid recipients. The model was being used by pediatric practices to coordinate care for children with special needs. Michener and others in North Carolina recognized that the PCMH model could be adapted to provide comprehensive, coordinated care in primary care practices and persuaded physicians at Duke and across the state to participate.
The PCMH model is now a standard of care that's part of primary care physician training. In the medical home model, patients have access to a personal physician who leads a care team that provides proactive, preventive, and chronic care management. The physician is responsible for the patient's coordination of care across all health systems and is committed to providing high-quality care using evidence-based medicine.
"It's a coordinated system of care instead of a string of episodic visits," Michener says. "It's a better way to practice."
Nearly every medical need can be addressed through the PCMH model. Specialists can adapt the model to treat patients with chronic conditions, and primary care physicians can offer behavioral and mental health services. "The inclusion of behavioral health is one of the key elements of success in a coordinated system of care," notes Michener.
The PCMH concept can also increase professional satisfaction among physicians as well as their practice's bottom line. As the US health care system moves away from a volume-based system to a value-based one, many payers are offering incentives to encourage physicians to participate in a PCMH.
Wanda Filer, MD, president of the American Academy of Family Physicians, notes that many physicians in PCMHs say that they feel better equipped to address patient needs, "which gives them a lot of professional satisfaction."