Are Online Reviews the New Scorecard?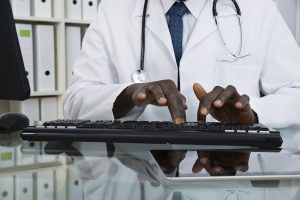 In an era of performance management, quality metrics, and transparency, scorecards, dashboards, and other tools have been useful in the design of best practices for both health care organizations and individual clinicians.
Online review sites have become the new kids on the block—and they're getting personal. Physician-rating sites now allow patients to post reviews and opinions to physician listings about anything from how long they had to wait to see their physician to the quality of care they received. Some health care institutions also monitor reviews of individual physicians to base their evaluations on what they see.
The encouraging news is that the majority of reviews are generally good, according to a 2014 survey of patient online reviews by Austin, TX–based consulting firm, Software Advice. A total of 71% of patients said they usually write something positive or neutral about their doctors.
But what about the other roughly one-third of negative reviews that test the heart and soul of a physician? Not only are online reviews increasing, but more patients are using those reviews to shop for a doctor.
Bryan Vartabedian, MD, blogger and pediatrician at Texas Children's Hospital, says don't despair. "Take a deep breath," he advises. "No one likes to read something negative about himself, but there are things that you can do to circumvent a bad review."
Offense, Not Defense
A few negative reviews don't stand a chance against a sea of positive reviews or a strong and consistent social presence, says Vartabedian. Consider putting some effort into creating a digital footprint that showcases your individual and practice strengths.
"Generate good content so that you can have some control over what people see," Vartabedian says.
Set Up Alerts
Create Google alerts using your name, the name of your practice, and other physicians in your practice. Monitor what you see, and pay attention to any trending conversations that may be harmful to your practice and its reputation. In addition, Hilary Hamblin, chief executive officer of Tupelo, MS–based Momentum Consulting, suggests a good old-fashioned Boolean search.
"Even if you have alerts and everything else set, a Google search gives you an opportunity to see what pulls up when someone searches for your practice name, your name, or industry key terms," she says.
Take it Offline
Don't risk drawing more attention to a negative comment than may be necessary or an inadvertent privacy violation through public engagement at the height of anger or indignation. Take it offline as soon as possible. If you can, reach out directly to a patient reviewer, offering a way for him or her to contact you or someone on your staff to address the complaint. Just make sure you're responsive.
"Most of the time, patients just want their issues taken care of," says Vartabedian. "Some will retract a negative review if there is an honest effort to understand a complaint."
Encourage Patient Participation
Opinions are mixed about requesting that patients post positive comments or reviews on social media sites. For many physicians, it's a question of ethics.
Power exists in numbers, of course, and more positive reviews will help enhance your online reputation. Ron Harman King of Vanguard Communications, a medical specialty marketing firm, says that there is no breach of ethics as long as you're following reasonable guidelines.
"The best approach," King says, "is simply to ask your most contented patients—the ones who've already expressed their thanks for successful treatment—to say something on one of [those] websites."
Turn a Negative Into a Positive
Always look for the lesson. Even the nastiest review offers an opportunity to evaluate the components of your practice, including communication, wait times, scheduling and billing issues as well as comments about diagnosis, treatment, and outcomes. Keep an open mind and use negative feedback as a teaching tool.
"Many times, the issues aren't about the quality of care; rather, they're about frustrating office practices," says Hamblin. "If you can identify and address your weaknesses, that makes your patients happy."