Apixaban May Offer Advantages for Patients With CKD and AF
Published
January 29, 2018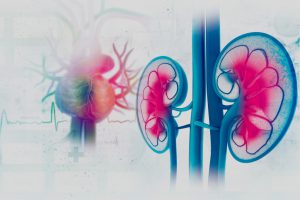 Apixaban may be a safer choice than warfarin for patients with stage 4 chronic kidney disease (CKD) and atrial fibrillation (AF) because of lower bleeding rates and fewer adverse events, a recent review has found.
Presented during the 2017 American Society of Nephrology conference, the results also offer guidance to nephrologists regarding the most effective dosage of apixaban.
A 2.5-mg dose of apixaban twice daily appears to be safe and effective for patients with severe kidney impairment, says John W. Stanifer, MD, a Duke nephrologist and lead author. The review assessed daily 2.5- and 5-mg doses.
The results are based on a pharmacokinetic post-hoc comparison of the 2 anticoagulants using data from a 2011 study published in the New England Journal of Medicine comparing the drugs in patients with AF. Known as the ARISTOTLE trial (Apixaban for Reduction of Stroke and Other Thromboembolic Events in Atrial Fibrillation and Valvular Heart Disease), the study found apixaban to be superior to warfarin in preventing stroke or systemic embolism, causing less bleeding, and resulting in lower mortality.
Stanifer says that nephrologists have generally lacked proven safety data to guide anticoagulant dosing in patients with AF and renal insufficiency. Patients with reduced kidney function, he says, require much more intensive surveillance while using warfarin than they do with apixaban.
The pharmacokinetic review of the ARISTOTLE results to assess the effects of the anticoagulants on patients with CKD resulted in researchers offering 2 key conclusions:
Among patients with stage 4 CKD (CrCI 15-29 mL/min), apixaban had lower bleeding rates than warfarin for patients with AF, and the rates were found to be consistent with the overall population
Further studies evaluating the safety and efficacy of apixaban in patients with CKD, including end-stage renal disease, are needed and ongoing
"My overall sense from the research is that we should not be afraid of the newer agents for patients with kidney disease," Stanifer says. "The superiority of the benefit may not be fully understood, but relative to the choice between warfarin and apixaban, it's clear that apixaban would be an appropriate alternative." Apixaban may also offer some stroke prevention benefits for patients with CKD, he adds.