Anticoagulant Therapy Linked to Increased Risk of Ischemic Stroke, Hemorrhage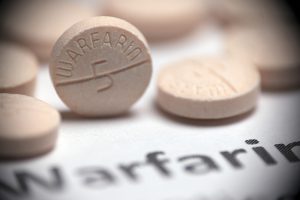 A population-based retrospective study of older patients with atrial fibrillation (AF) and chronic kidney disease (CKD) showed that anticoagulation use was linked to an increased risk of ischemic stroke and hemorrhage but a decreased risk of mortality. The use of anticoagulants is a widely accepted therapy to prevent stroke in patients with CKD and AF, but the practice remains the subject of significant clinical inquiry and debate.
A European study published in BMJ in February 2018 analyzed the association between anticoagulation, ischemic stroke, gastrointestinal and cerebral hemorrhage, and all-cause mortality among patients aged 65 or older with AF and CKD. Using the Royal College of General Practitioners Research and Surveillance Centre database, researchers identified 6,977 patients with CKD and newly diagnosed AF. Of this group, 2,434 were prescribed anticoagulants within 60 days of diagnosis.
Jonathan P. Piccini Sr., MD, MHSc, a Duke electrophysiologist and director of the Duke Center for Atrial Fibrillation, cautions that the findings raise important questions, but they should not change clinical practice.
"There are some very important findings, however," Piccini says. "First, only about one-third of patients in the BMJ study received anticoagulants, and the patients who received these medications were different from those who did not, including in ways that were not accounted for in the study's statistical analysis."
Piccini also notes that patients treated with anticoagulation therapy had a higher rate of aspirin use and may also have differed in other ways that might increase the likelihood of bleeding or having an ischemic event.
The data underscore the need for a randomized study of stroke prevention in AF complicated by severe CKD, Piccini says. "The basic point is that patients with CKD are at increased risk for both bleeding and stroke," he says. "Given the high risks for bleeding in patients with CKD, we really need a large trial of left atrial appendage occlusion versus direct-acting oral anticoagulation therapy. How we prevent stroke in these patients is not as straightforward as it is in patients without kidney disease."