An Alternative Approach to External Biliary Drains in a Post-Whipple Patient
Published
February 17, 2015
A 65-year-old man had undergone a Whipple procedure (pancreatoduodenectomy) in 2005 at an out-of-state health care facility for the removal of a benign inflammatory pancreatic mass. Four years later, he developed a stricture of the choledochal-jejunal anastomosis as a complication of the initial surgery. The stricture had been managed for the past 2 years with percutaneous biliary drainage catheters. The catheters were removed but had to be re-inserted when he developed cholangitis complicated by liver abscesses.
The external biliary drains required daily maintenance that limited the patient's social life, caused anxiety, and had an overall negative effect on quality of life. (External biliary drains may also cause pain and increase the risk of infection.)
In 2011, the patient moved to the Raleigh area and contacted Duke Medicine's gastroenterology division to establish care because percutaneous biliary drains must be exchanged on a yearly basis.
Are there other options to percutaneous biliary drains that might improve this patient's quality of life?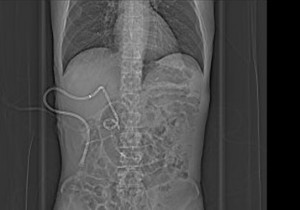 FIGURE 1. Abdominal radiograph; percutaneous biliary drain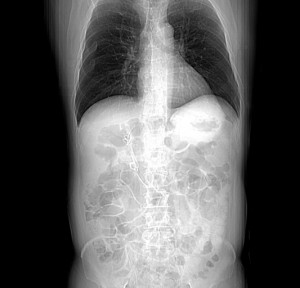 FIGURE 2. Abdominal radiograph; internal biliary stents
Answer: Internal biliary stenting can be an alternative to biliary drains to heal strictures and improve quality of life.
The patient saw gastroenterologist Jorge Obando, MD, who recommended internal stenting of the biliary stricture. Obando said that Duke performs many complex internal biliary stenting procedures. "I felt that we had the expertise and experience to help this patient—it really made no sense for him to have the external drains," he said.
A minimally invasive technique called endoscopic retrograde cholangiopancreatography (ERCP) was used to place the internal biliary stents (small pieces of plastic tubing) across the stricture. Although the procedure is performed as outpatient surgery, ERCP can be challenging in patients with post-surgical alterations to biliary and pancreatic anatomy.
During the initial surgery, Obando also removed the percutaneous drains. "He has been without external drains since day one," Obando said. Figures 1 and 2 to the right are radiographs of the patient's abdomen showing external and internal drains, respectively.
Over the next year, the procedure was repeated 3 times, with the stents being exchanged and upsized each time. (Plastic stents may become occluded or cause cholangitis if not replaced regularly). Eventually, it was possible to completely remove the internal stents after 1 year of treatment, most likely because the presence of the stents resulted in remodeling of the biliary stricture, Obando said.
Patency of the biliary stricture site continues to be maintained. "There are really no contraindications to the placement of internal stents," Obando said. "They are the optimal treatment for biliary strictures."