Restoring Mobility Without Resorting to Ankle Fusion Surgery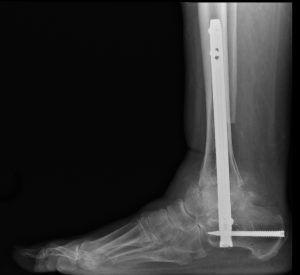 FIGURE 1. Traditional fusion surgery used for ankle bone replacement. Image courtesy of Selene G. Parekh, MD
A 19-year-old woman presented with avascular necrosis of the talus bone in both ankles. As a survivor of leukemia, she had significant bone damage due to long-term use of prednisone. She had been experiencing pain that was increasingly severe in her ankles with swelling, loss of motion, and difficulty walking.
Several physicians and other medical institutions recommended she undergo ankle fusion surgery (Figure 1). However, this procedure has a high nonunion rate and could have limited her range of motion in both her ankles and subtalar joints.
After she and her family researched other alternatives, she reached out to Duke orthopaedic surgeon Selene G. Parekh, MD.
Question: What was Parekh's recommendation to restore the patient's mobility and relieve her pain?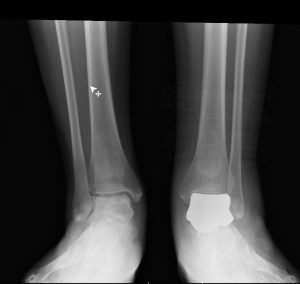 FIGURE 2. A customized, 3-D printed talus bone was surgically placed in the patient's ankle. Image courtesy of Selene G. Parekh, MD
Answer: Parekh recommended an innovative procedure that involved creating a custom, 3-dimensionally (3-D) printed total talus replacement (Figure 2).
By using 3-D printing, Parekh says, total talus replacement can be customized to a patient's individual anatomy. "When replacing a bone, it needs to be perfectly size matched and positioned, which can only be achieved with 3-D printing," he says.
To perform the procedure on her left ankle, Parekh made an incision in front of the ankle and removed the entire talus bone. He then inserted a size-matched, 3-D printed total talus replacement made from cobalt chromium. "It's a similar approach to a total ankle replacement," he says.
Unlike fusion surgery, there's no risk of the bone not healing properly, and patients undergoing talus replacement have much faster recovery times. Following the procedure, patients must wear a cast for 3 weeks during which they cannot bear weight on the joint, and then they have to wear a medical boot for 3 weeks and walk on it. After that period, they are allowed to wear their own shoes but must undergo physical therapy for another 6 to 12 weeks to regain their motion and strength.
"When I saw the patient 7 weeks after surgery, she was doing great," Parekh says. "She has returned to doing things that teenagers do. Patients who have undergone this surgery feel as if they've restored their quality of life. They experience significant pain relief (upward of 85%) and have a more normal walking pattern."
Later this year, the patient is considering having the same procedure performed on her right ankle.
Parekh, who has performed approximately 20 surgeries of this kind to date, was among the first surgeons in the United States to implant a customized, 3-D printed talus bone. "At Duke, we are harnessing new technology (eg, 3-D printing) to save limbs and provide better solutions for patients who didn't have any good solutions before."