Replacement or Arthrodesis for Bilateral Ankle Arthritis?
After being diagnosed with post-traumatic bilateral ankle arthritis, a 57-year-old Virginia man with a history of sports-related ankle injuries was nonsurgically treated for several years with medical interventions, including pain medications, nonsteroidal therapies, and corticosteroid injections. He also wore a brace.
Although each treatment briefly alleviated his pain, the patient was unable to participate in sports and began experiencing discomfort in activities of daily living. He was referred to Duke orthopaedic surgeon Mark Easley, MD, to explore alternative options.
Question: What procedure did the patient and Easley agree upon to help alleviate the patient's pain and reduce the discomfort he was experiencing during his activities of daily living?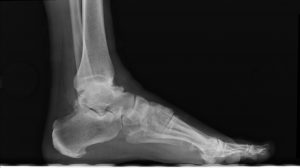 FIGURE 1. Preoperative lateral radiograph shows no joint space, confirming advanced ankle arthritis
Answer: After he reaffirmed the diagnosis of post-traumatic ankle arthritis (Figure 1) and confirmed the patient had attempted all appropriate nonsurgical treatments, Easley recommended 2 options: ankle replacement or arthrodesis. After considering his options, the patient selected ankle replacement.
Although both ankle replacement and arthrodesis provide similar levels of pain relief, Easley explains, replacement allows patients to retain a satisfactory range of motion while alleviating stress from the hind foot.
"With arthrodesis, the patient will still have motion through the hind foot but not the ankle. If the patient has bilateral ankle arthritis—like in the case of this patient—ideally, you wouldn't want them to be fused on both sides," explains Easley. "Although arthrodesis has been the operation of choice for decades, the primary concern is that, over time, the additional stresses placed on the hind foot secondary to ankle fusion lead to adjacent joint subtalar or talonavicular arthritis in a majority of patients."
Even though this patient was a candidate for ankle replacement, Easley cautions that this is not the case for all patients. Ideal candidates are lower-demand persons (age ≥ 55 years) with a well-aligned ankle. Replacement can be performed whether the patient's arthritis is primary, post-traumatic, or inflammatory.
Easley recommended that the patient have staged ankle replacement surgery, beginning with the left extremity because the arthritis was more advanced on the left than the right ankle. Through a routine anterior longitudinal ankle incision, Easley resected the end of the tibia and the top of the talus, replacing them with metal implants. He also implanted a radiolucent, fixed-bearing polyethylene spacer between the metal components.
"If there is ankle deformity or instability, associated foot realignment or ligament-balancing procedures may be necessary to provide optimal support for the ankle implants," says Easley. "In this case, those procedures were unnecessary."
At the patient's 1-year follow-up appointment, Easley confirmed that his left ankle had healed well with satisfactory alignment and stability and without signs of radiographic failure (Figure 2).

FIGURE 2. Lateral radiographs obtained 1 year later of the implanted ankle replacement with stable metal component. Results show satisfactory (A) dorsiflexion and (B) plantarflexion. Ankle is well aligned, and implants are stable without signs of loosening or failure. Radiolucent, fixed-bearing polyethylene spacer occupies and is balanced by the space
Pleased with the outcome, the patient returned to Duke and Easley performed his right ankle replacement.
The Duke Division of Foot & Ankle includes Samuel Adams, MD, Ned Amendola, MD, James DeOrio, MD, James Nunley, MD, Selene Parekh, MD, and Karl Schweitzer, MD.
SaveSaveSaveSaveSaveSaveSave