Pilot Takes to the Skies Again With 3-D–Printed Total Talus Replacement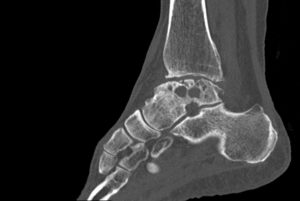 FIGURE 1: Preoperative CT scan of the patient's ankle showing degenerative changes in the ankle and large cysts abutting the subtalar joint.
A 69-year-old female airline pilot with severe ankle arthritis and talus bone cysts so large that they reached the subtalar joint (Figure 1) faced a potentially career-threatening development as she considered treatment options such as fusion surgery or total ankle replacement.
Because of the size of the cysts, total ankle replacement was considered high risk. Fusion surgery would limit her mobility and potentially end her career as a pilot. Seeking alternatives, she consulted with Selene Parekh, MD, a Duke foot and ankle orthopaedic surgeon and a co-chief of the Division of Foot & Ankle, who is recognized for his innovations using 3-dimensional (3-D) printing to create replacement bones.
"She said she would do anything to try and maintain her motion and was adamant about not having fusion surgery," Parekh says. "The type of fusion she needed would have locked up both the ankle joint and the subtalar joint."
Question: What solution did Parekh recommend to address the patient's physical challenges and allow her to continue her career as a pilot?
Answer: After reviewing options and risks, Parekh and the patient decided to proceed with a total talus replacement using a 3-D–printed bone replica and marrying this with a tibial component of a total ankle replacement. Parekh had previously used 3-D–printed devices to recreate ankle and foot bones that were exact replicas of native bones for total talar replacements. In most cases, however, the 3-D replica only replaced the talus bone. Using 3-D printing technology for the total talus is relatively rare; however, Parekh believed that the procedure could relieve the patient's pain and preserve full range of motion for the foot at both the ankle and subtalar joints.
FIGURE 2: 3-D–printed talus ready for implantation. The top of the talar dome marries perfectly with the polyethylene of a total ankle replacement.
Radiographs and magnetic resonance scans were performed to fully evaluate the size and depth of the cysts in the patient's ankle. A computed tomography (CT) scan was performed with extremely thin slices to enable a highly detailed view of the anatomy and ensure that a 3-D bone could be successfully created.
Computer-aided drawings of both the unaffected limb and the affected limb were produced for comparison; if there was permanent damage to the native talus, a mirror image of the unaffected limb would be used to "correct" the damage on the 3-D model used to print the bone.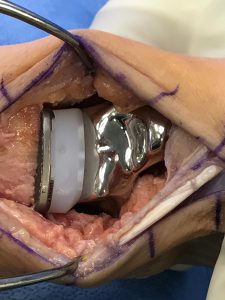 FIGURE 3: Intraoperative photograph shows the 3-D–printed total talus and a poly and tibial component from a total ankle replacement inserted.
The next step for Parekh was to finalize the design of the patient's healthy new talus using the 3-D model created from the drawings. He had to be very careful to ensure that the top of the newly designed talus would "marry" with the polyethylene of a total ankle replacement. The bone was then printed, sterilized, and polished (Figure 2), and the surgery proceeded (Figure 3).
Parekh notes that Duke orthopaedic surgeons are changing the algorithms of care for certain disease states, performing one of the highest numbers of 3-D–printed total talus replacements in the United States. "Using these techniques, we've been able to revolutionize treatment for patients who have had a failed total ankle replacement and perform a revision replacement using total tali," he says. "We've also revolutionized treatment for patients with avascular necrosis of the talus. In the past, the only solution for that was to perform fusion or major revascularization procedures, but now we can treat them with total tali."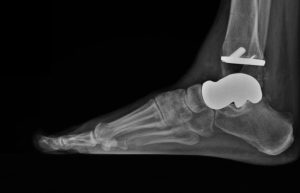 FIGURE 4: Postoperative radiograph shows 3-D–printed talus with the tibial component of a total ankle in place.
The patient participated in a normal postoperative protocol, including wearing a cast and boot for several weeks and building motion and strength through physical therapy. "She did fantastic," says Parekh. "Her pain is reduced, she has better motion, and her quality of life has been restored." The patient was able to resume her career as a pilot and is expected to have no further problems with her ankle function.