Innovative Health Care Technologies Are Advancing Medical Practice
Published
January 20, 2015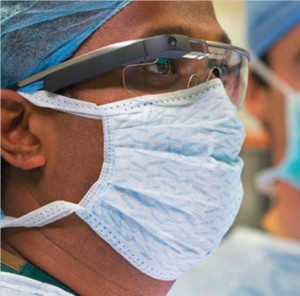 This image, taken by Shawn Rocco, depicts Parekh wearing Google Glass during surgery.
Six years ago, after having traveled to and from India several times in the course of volunteering and performing surgeries in charitable clinics, Selene G. Parekh, MD, MBA, an associate professor of orthopaedics at Duke, got an idea.
"I thought, wouldn't it be great if I could continue the educational process after I got home," he says. "If I could find a way to live broadcast surgeries here in the United States (US) and then transmit them anywhere in the world—that would be a huge improvement."
Parekh started experimenting, first with head-mounted cameras, like the GoPro, then with Google Glass, an optical, hands-free, head-mounted display that does essentially everything a smartphone can do—without breaking the sterile field.
Not only could Google Glass live broadcast educational surgeries, but its potential to link surgeons to a global network of colleagues became obvious. "If you're a surgeon in Asia wearing Google Glass, and you run into some difficulty, think of how amazing it would be, at the command of your voice, to bring an expert into your operating room at the very moment you need help."
The technology, however, is not bug free. For example, Parekh notes that it lacks a Health Insurance Portability and Accountability Act (HIPAA)-compliant platform for data sharing. But he firmly believes that Google Glass represents the tip of an iceberg of game-changing technology. "I think wearable technologies like this are going to disrupt the way we practice medicine today," he says. "And I mean that in a good way."
Practical Apps
Parekh is far from alone. If anyone had doubts that Silicon Valley intends to target the $3-trillion-a-year US health care market, Apple's and Google's developers' conferences held earlier this year dispelled them. Usually dominated by tablets and smartphones, the 2014 conferences were instead abuzz with the unveilings of the companies' new health-tracking platforms: HealthKit and Google Fit.
Industry watchers agree that these products signify the digital world's first steps in its larger ambition to overhaul clinical health care using the same online tools, apps, and devices that have transformed the realms of retail, media, and finance. For example, an Australian study found that the AliveCor Heart Monitor, a new device that records electrocardiogram readings on smartphones, offers a safe, quick, and easy way for support staff members to screen patients for atrial fibrillation. Additionally, devices like the Helius, an ingestible biosensor that informs physicians when patients take medication, offer practical, cost-saving alternatives for conditions that require stringent medication adherence.
Battle for Biosignal
How a widespread digital transformation of health care will be monetized remains to be answered. Many believe that whatever changes do occur will likely be driven by consumers. If the products become popular enough, companies will likely monetize digital health tracking in the same way that Google monetized Web searches, says Jesse Slade Shantz, MD, MBA, chief medical officer of OMsignal, a company that manufactures biosensing clothing. "A lot of what's going on now is companies trying to be the data traffickers, to serve as the pipes and plumbing for this information—it's what we call the emerging 'battle for biosignal.' The companies in control of this data will be able to study it and derive insights [for] themselves."