Hallux Rigidus Causes Pain and Impacts Quality of Life
Published
January 17, 2017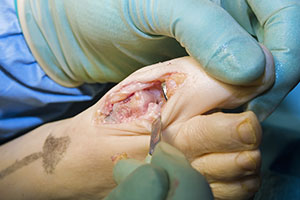 In 2014, a 49-year-old woman presented at Duke with hallux rigidus of the first metatarsophalangeal (MTP) joint. A busy mother of 2 children and an exercise enthusiast, she had been experiencing pain for years. She had previously undergone surgery in 2007 without successful, long-term pain relief.
When she was referred to Duke orthopaedic foot and ankle specialist Selene G. Parekh, MD, the only surgical option available to her was arthrodesis (fusion) with a metal implant. Although it was considered the gold standard of care for decades, arthrodesis causes loss of motion in the MTP joint, preventing patients from fully participating in certain physical activities or wearing specific kinds of footwear.
Deciding to delay surgery as long as possible to preserve motion in her hallux, the patient's pain was managed with nonsurgical options, including topical and oral anti-inflammatories, stiff insoles, and steroid injections. However, over the next 2 years, her level of pain increased and it began to significantly affect her quality of life. A surgical solution needed to be explored.
Question: What procedure alleviated the patient's pain, preserved motion in her hallux, and restored her quality of life?
Answer: In September 2016, the patient received a synthetic cartilage implant (Cartiva, Alpharetta, GA), a treatment recently approved by the US Food and Drug Administration for osteoarthritis of the MTP joint in the presence of good bone stock along with hallux rigidus. The woman was the first patient at Duke to receive the implant.
She is now pain-free, says she cannot feel the implant, and returned to exercising 6 weeks following the procedure.
A molded cylindrical device containing polyvinyl alcohol and saline, Cartiva is implanted into the metatarsal head in the first MTP joint via press-fit implantation. Research has shown that patients with a Cartiva implant have a 93% reduction in pain, a 168% improvement in median function of sporting activities, and a 65% improvement in activities of daily living.
Unlike arthrodesis, the procedure takes less than 15 minutes. The patient was able to begin weight-bearing immediately and return home the same day. She wore a supportive boot for 4 weeks, after which she was able to begin wearing her own footwear as well as work on her motion, strength, and flexibility with physical therapy, once or twice a week for 4 to 6 weeks.
"There's always a desire for an option that allows patients who suffer from arthritis to keep motion in their big toe," explains Parekh. "The benefit of Cartiva is that patients can achieve equal pain relief to fusion but maintain motion, with a shorter recovery. Although it's not the full range of motion, this patient is better off than if she had had fusion and was locked into position. And, if she ever needs to, we can always convert to fusion without much difficulty."