Embracing Wearable Wellness
Published
January 5, 2016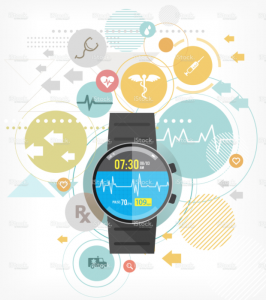 Despite them being popular with consumers, wearable fitness trackers, health-monitoring smart phone applications, and biometric sensors embedded in clothing, shoes, and jewelry have yet to make much progress toward being included in evidence-based decision making in the clinical setting. For example, health care professionals won't be diagnosing heart arrhythmia solely based on data downloaded from a patient's smart phone any time soon. 
However, that doesn't mean these devices and this wearable technology cannot play a beneficial role in patient care. In fact, general consensus suggests that the increased motivation and adherence engendered by these technologies is a positive on which practitioners can build. 
"Wearable technologies aren't ready for prime time yet," says Selene G. Parekh, MD, MBA, an associate professor in the Department of Orthopaedic Surgery at Duke University. In fact, not much leveraging of big-data strategies will occur until a digital platform comes to market that can aggregate patient-generated data and be compliant with the Health Insurance Portability and Accountability Act, he explains. "Probably within the next few years we'll see that happen. I think these devices will eventually be involved in direct patient care."
Patient Adherence
In the meantime, he urges health care professionals to become familiar with the technologies in more tangential but equally useful ways. "From an orthopaedic perspective, maybe wearable devices will allow me to know whether a patient is adhering to the non–weight-bearing schedule like I asked. Or," Parekh surmises, "if you're a primary care physician, maybe you're using the devices for activity monitoring to track caloric intake and burn for your patient."
Are Wearable Devices Right for Your Patients?
When a patient asks about the possibility of buying a wearable fitness tracker, the first matter to be addressed is whether the individual is likely to regularly use the device. About one-half of those who buy fitness trackers stop using them within 6 months. Furthermore, with a price tag of $150, these trackers may represent a considerable expense for some patients.
If activity monitoring is the primary goal, then some patients might be better off with a simple pedometer, which costs about $10 and provides similar rates of accuracy.
Because activity trackers tend to be designed by young people for young people, make sure patients with presbyopia or diminished vision choose products with legible display screens. Before launching an exercise program, patients should establish a baseline by monitoring their normal physical activity for 3 days and then averaging the results.  
Usefulness of Trackers and Self-Monitoring
Studies link patient self-monitoring of health criteria with increased engagement and improved outcomes, and many at-home monitoring technologies provide useful screening evidence that can then be pursued via traditional examinations.
For patients with a wearable fitness tracker, a healthy activity goal to suggest is typically 10,000 steps (roughly 5 miles) a day. Patients should approach such a goal in 500- to 1,000-step increments. Trackers that include heart-rate monitors can differentiate between moderate and rigorous physical activity.
One area where mobile technology has proven beneficial to primary care physicians is hypertension. In fact, home monitoring of high blood pressure is now widely considered standard of care.
For example, the US Preventive Services Task Force now recommends that elevations in blood pressure be confirmed by readings taken outside the clinic. This is because 20% of patients present with white coat hypertension and 10% to 15% of patients have higher readings at home than in the health care setting. Devices that sync with smart phones and tablets can make at-home transcription easier and can often improve patient adherence.
So far, the only tracking products that have provoked significant skepticism are sleep monitors. Many of these consumer devices and smart-phone applications claim to track and document user sleep cycles throughout the night. However, widespread doubt exist about whether such products, which rely mainly on the same 6-axis accelerometers used to track physical activity, can accurately monitor nocturnal activity. Most sleep specialists suggest that, short of observation at a clinic, patients would be better off keeping a handwritten sleep diary.